Gateway Cities Strategic Transportation Plan
GATEWAY CITIES STRATEGIC TRANSPORTATION PLAN
The Strategic Transportation Plan (STP) brings together all elements of the transportation system in the Gateway Cities — freeways, arterial highways, transit, bikeways, pedestrian facilities, technology, and goods movement — into a unified vision for the future. It is the culmination of three years of data collection, modeling, analysis, engineering and stakeholder engagement. It also evaluates air quality impacts, storm water treatment strategies, and presents preliminary freeway and arterial road designs for future consideration.
Why is it important? For many years, cities planned their roads independently; but, one city's transportation improvements can negatively impact the city next door. The STP develops local resources and builds on previous transportation studies to create an integrated transportation system for the 27 cities in the Gateway Cities Subregion. The STP enables individual cities to understand how their transportation plans and decisions impact neighboring cities and vice versa — how individual cities fit within the larger region.
Introduction to Gateway Cities STP - 8 Minutes
---
STP Dashboard
The STP Dashboard contains information about all 8 elements of the STP, including reports, videos and meeting materials. The dashboard is in a PDF format and could be opened by Adobe Acrobat Reader.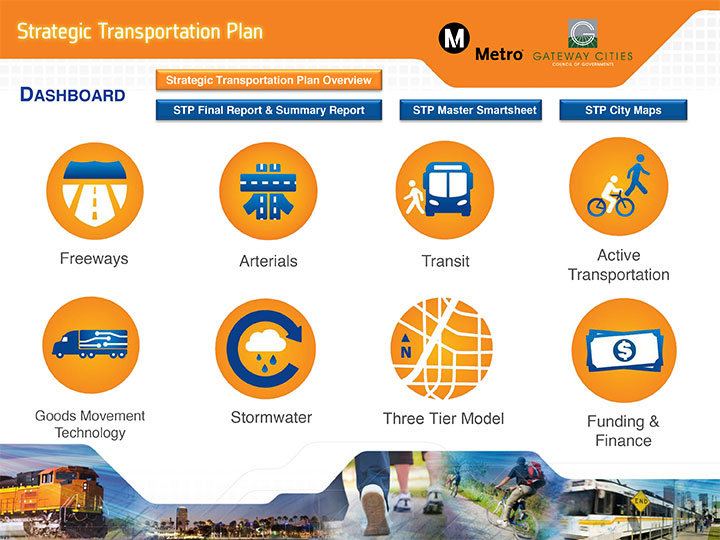 ---